Activision hat gestern den offiziellen Multiplayer-Trailer zu Call of Duty: Modern Warfare veröffentlicht. Laut den Entwicklern wird das Spiel das beste Gameplay seiner Klasse bieten und die meisten Waffen in der Geschichte von Call of Duty.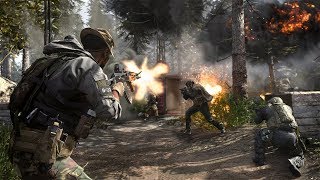 Modern Warfare soll den Spielern eine unerreichte Intensität und Authentizität bieten. Crossplay zwischen PC, Xbox One und PS4 wird ebenfalls möglich sein. Der Multiplayermodus wird außerdem einen neuen, actionreichen 2-gegen-2-Modus namens Gunfight sowie einen 20-gegen-20-Modus bieten.
Das offizielle Erscheinungsdatum von Call of Duty: Modern Warfare ist auf den 25. Oktober festgelegt.
Weitere News findet ihr hier.